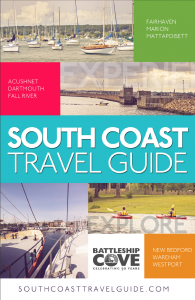 The 2015 -16 South Coast Travel Guide is schedule for distribution on the first week of June. I'm reminded of the amount of work required in getting the guide to print every year.
Where the South Coast Travel Guide is distributed
We supply the guide to small business on the South Coast from Fall River east to Wareham Mass. Businesses like coffee shops, restaurants, local small business, at local events, town halls and so on. There is no cost to the public for the 80 page guide.
What Makes it a challenge to produce
Not only relating to the photography, of which this year I shot most of it, including the cover. The work is in the all the details and content… especially the events and town sections. They require constant update and editing.
This South Coast Travel Guide publication is good for one year, so once the content is in edited and printed, it's done, no changes until next publication! So as you might have guessed, it's a little stressful hitting the deadline. No in fact it's really stressful hitting the deadlines because there is a certain few people we are always waiting on for copy. Or should I say harassing for copy.
I should also mention that in order to make this publication possible it requires advertisers, and someone who's job it is to sell advertisements to these people. Have you ever sold print, cold calling, business to business?
Then there's the printing, shipping and 5 months of delivering to the nearly 275 locations.
What is the reward?
It's a marathon, what makes it worth it though is all the calls, emails and such from people who really enjoy the travel guide as a resource.