Why I started the Business Portraits in New Bedford page you ask— read more below.  New Bedford, Massachusetts is a lovely city and home to many wonderful places. Most notably the Whaling Museum, New Bedford Art Museum/Artworks where I've done quite a bit of photography, including class sessions on lighting. And we can't for to mention the Zeiterion Performing Arts Center or what the locals refer to as the "Z".
Business Portraits in New Bedford is not limited to just the professionals like lawyers, doctors, business owners and reality companies to name a few. Business Portraits may be ideal for the local college campuses staff and professionals which are located in the downtown area.  Namely Umass and BBC colleges.
Business Portraits in New Bedford Mass
Mark Mederios has many clients in the city of New Bedford, if your interested in having portrait or product work photographed he would be glad to help.
For years Mark photographed for the Southcoast Travel Guide, on many occasions Mark found himself downtown New Bedford on assignment. Photographing people in restaurants,  businesses or at events.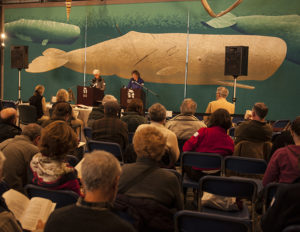 Here in this photograph are people reading at the New Bedford Whaling Museum. A very popular event that attracts travelers from all over the world.