Most people who write me already have a name in mind for their company, product or service… so their first question usually starts off with can you design a logo, website and business card for me ?

I should caution you to think very carefully about the name you intend to use, in designing a brand 3 steps I explain to use a name that it "fits" with your overall brand plan.
Designing a brand 3 steps
Use your imagination, intelligence and knowledge when building your brand.
Developing a brand idea can take some time- it's a process that shouldn't be rushed, in fact it's the process which is as important as the development of your brand.
In her book Designing Brand Identity- by Alina Wheeler, Ann starts off by noting that ideals are essential to a responsible creative process regardless of the size of a company or the nature of a business. These ideals hold true whether creating a new product or service, re positioning a brand, working on a merger, or creating retail presence.
IDEAL adjective: ideal – satisfying one's conception of what is perfect; most suitable.
NAMES, Naming your company, service or product.
Whats in a name? Everything actually. The right name should be easy to remember, easy to say and type. It should be memorable. In addition to looking good in text and as a logo. A well chosen name is your 24 hour message board. Designing a brand 3 steps.
Name types:
There is the Founder, as in naming your company after yourself.
Or spelling out a name… like Toys "R" Us. Or something made up like Dropbox, Trello etc.
Then you have the metaphor, things like people, animals or places Amazon and Apple come to mind.
Acronyms like DKNY, CNN are tough to register and copyright not to mention remember.
Then we have the totally made up magical words like Netflix, Flickr and Foursquare to name a few.
Finally there's the combination of the above, or combining names in general like Citibank, BankFive or Carmax etc.
Have you ever named a company, product or service? It's NOT easy and it can take hours, days, weeks not to mention all the research, doubting and confirming. Below are some ideas that might help you in your journey in putting together a great name. Designing a brand 3 steps continued.
Keep these things in mind when naming your company, product or service…
Qualities of a good name:
Visual
Unique, Distinctive
Has meaning to it
Has a life span- a future
Adaptable – modular
Can be trademarked or a domain found for it
Positive meaning- in the market that is being served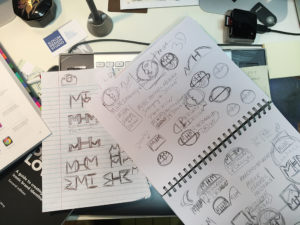 Generally after you decide on your company name you might consider moving on to a tag line… Tag lines are like positioning statements, it captures your companies brand essence, it's what differentiates you from your competitors. It's all part of a complete brand, and a brand process to designing a brand 3 steps.
Taglines are short phrases, explaining your brand promise
Deciding on a tag line can take up as much time as deciding on your brand name! So I won't go into here but I plan to revisit it in a latter blog. Moving on instead let us discuss the making of your logo. Keep in mind however, that a tagline might also help to explain your logo, and the logo can also reinforce your tag line.! It's all about brand and how all these elements compliment on another marrying all these things together.
Good design is good business


Think bold, memorable and recognizable. Any well written book on branding, like Alina Wheeler's on Designing Brand Identity will spell out the criteria you should follow for shaping your brand identity.
Some important ones are listed here.
Vision- Imagine what others can't see
Sustainability- Brands are a message of trust.
Commitment- Building enhancing and protecting a brand requires discipline to insure integrity.
Meaning- Define a set of values, stand for something
Value- Brand identity, which includes all tangible expressions from packaging to websites, upholds that value.
Since the name of my company is "my name" Mark Medeiros I didn't have to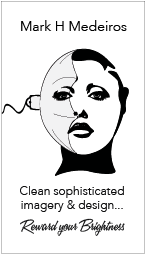 wrack my brain trying to come up with one. Still, I spent weeks coming up with a logo design and tagline that would be used on my business card.
My next post we'll talk about logo's and how to create them.
Summary

Article Name
Designing a brand 3 steps
Description
Put some thought into your brand, and don't be afraid to scrap a bunch of initial mockups it takes time to get the look you want. You'll know when it looks right.
Author